About t3
t3 is the passenger reservation solution ALL operators, with all the processing power, scalability and security expected of a true client server database product. Based on the SAP - Advantage Database Server (ADS SQL), t3 builds on the excellent pedigree and proven functionality of our market leading t28 passenger reservations system.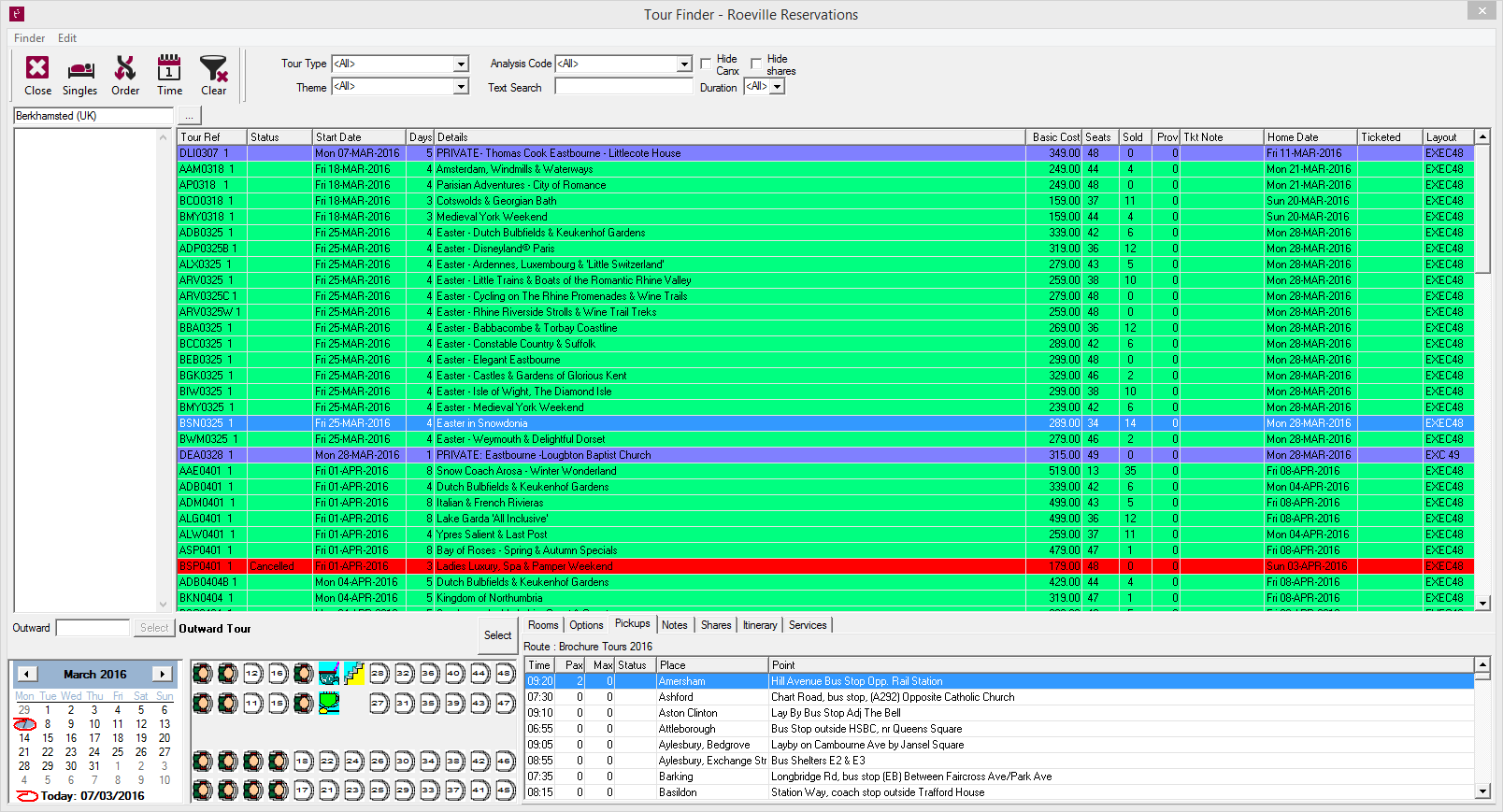 In addition to the rich feature set of t28, we have extended the range of business functions to meet the exacting needs of all organisations, including an optional graphical interchange/pickup management tool. There is even a quick and easy migration path from t28 to enable operators to upscale without having to re-enter any data.
t3 is a natural partner to WebRes - our market leading e-commerce web site, which links your tour programme to the internet, allowing clients and travel agents to book tours and excursions over the internet from their computers, tablet devices or smartphones.
In addition to the robust core reservation system we have added a host of useful features including contracting for hotels, ferries, airlines, coaches and other tour inventory. These can be contracted in advance, accurately managed and then assigned to tours as they are built.
Loading your tour programme is straightforward, with no limit to the number or types of departures which can be operated. All hotel accommodation, options - such as show tickets - and coach seating plans can be assigned per tour and shared across multiple coaches.
The flexible pickup system handles interchange, home collect and line of route models and we have built an impressive mapping application to manage the operational and financial aspects of routing.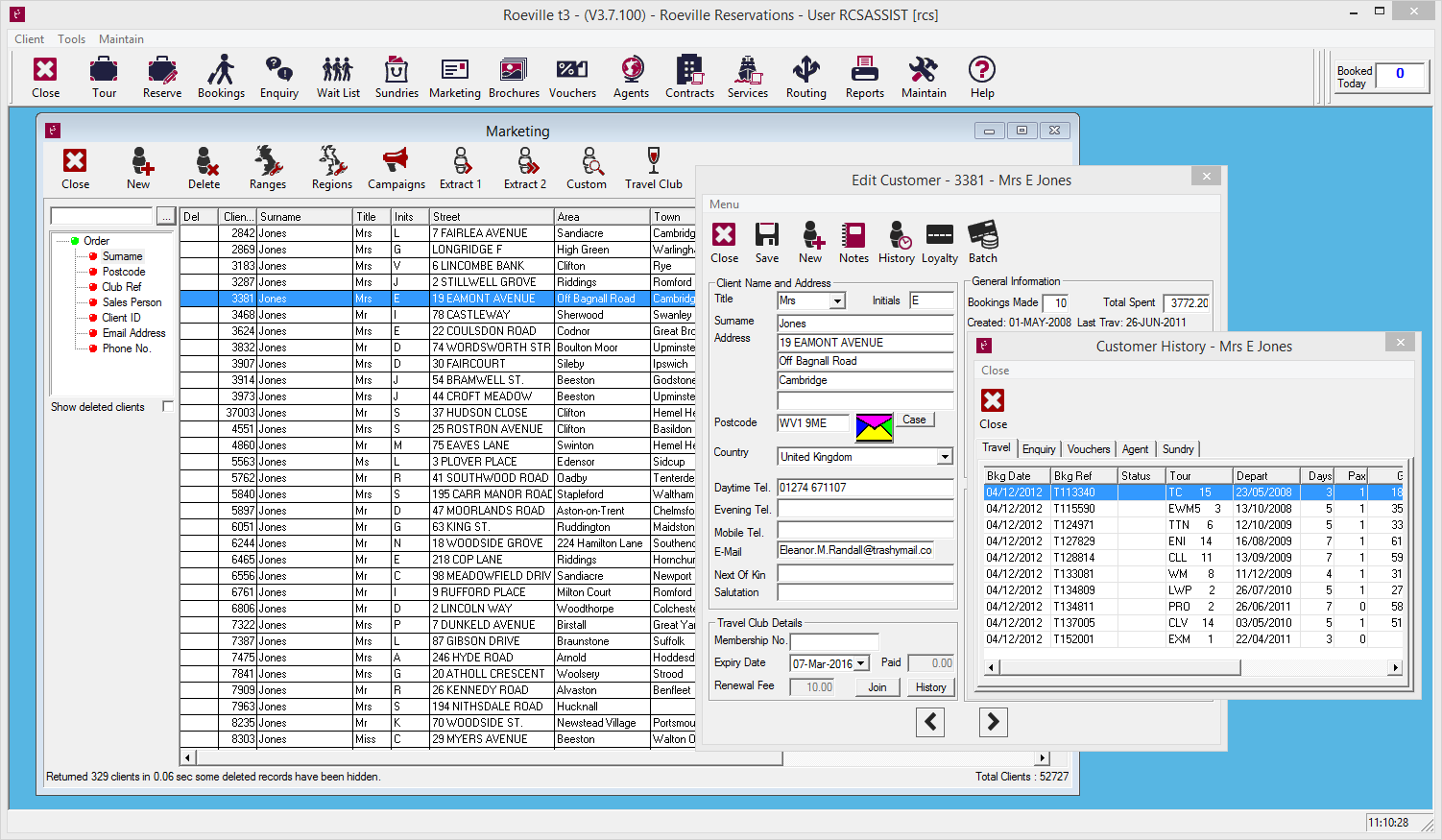 Making reservations is simple, fast and intuitive while still managing to maintain that all important personal touch. The Tour Finder is a mine of useful information and allows the operator to drill into all aspects of tour pricing and resource, matching tour availability to the client's needs. The booking process is swift, flexible and extremely easy to follow. Payments can be entered and the confirmation - including insurance and itinerary information - printed or emailed to the client in seconds.
An internal document archive records PDF copies of all client and agent confirmations for review from within a booking. Travel agent support has been enhanced considerably and agents are encouraged to book direct through WebRes.
t3 keeps tabs on many aspects of your operation, and a comprehensive Audit Trail is available to monitor user activities. The cash daybook and agent batch payment system gives total control over the financial integrity of the product, including real time payment card processing using Sage Pay or WireCard.
t3 has a broad portfolio of tour reports which can all be viewed on screen, printed, or saved in PDF format for emailing to external suppliers. Standard management reports include daily booking activity, marketing responses and booking performance statistics plus a host of other useful formats. Operators with non-standard reporting needs benefit from the Custom Extract feature which executes custom-written SQL scripts to deliver almost infinite permutations of data into Excel format files which can be opened immediately from within t3.
A categorisation system allows tours, clients, bookings and enquiries to be profiled for analysis, customer history and market extract purposes. The marketing system incorporates regionalisation and custom data-mining for highly targeted campaign extracts based on the clients historical records.
A configurable Voucher handling system is provided for the issue and redemption of gift, holiday and compensation vouchers. There is a powerful client loyalty points system based on frequency and duration of travel which can integrate with the Voucher system. Gift vouchers can also be sold on-line through WebRes.
t3 has excellent support for companies operating multiple brands; they can be operated from the same data set to facilitate consolidation etc, or operated in parallel by using the Multi Company licensing model. A fast switch allows users to effortlessly move between the various brands. Each brand can have its own customised client facing document layouts and card payments can be sent to brand-specific merchant accounts.
Multi-branch support allows payment analysis and booking trends to be segregated. A real-time monitor shows booking activity from the head office, each individual branch, travel agents and direct internet bookings for the current day compared to the same day the previous year.
There are no feature restrictions on the base t3 system, but there is an ever growing gallery of external applications developing to fit the needs of different businesses. These include interfaces to third party applications including financial and CRM systems and web consolidators including Door2Tour.com, CoachHolidays.com and Travel 55.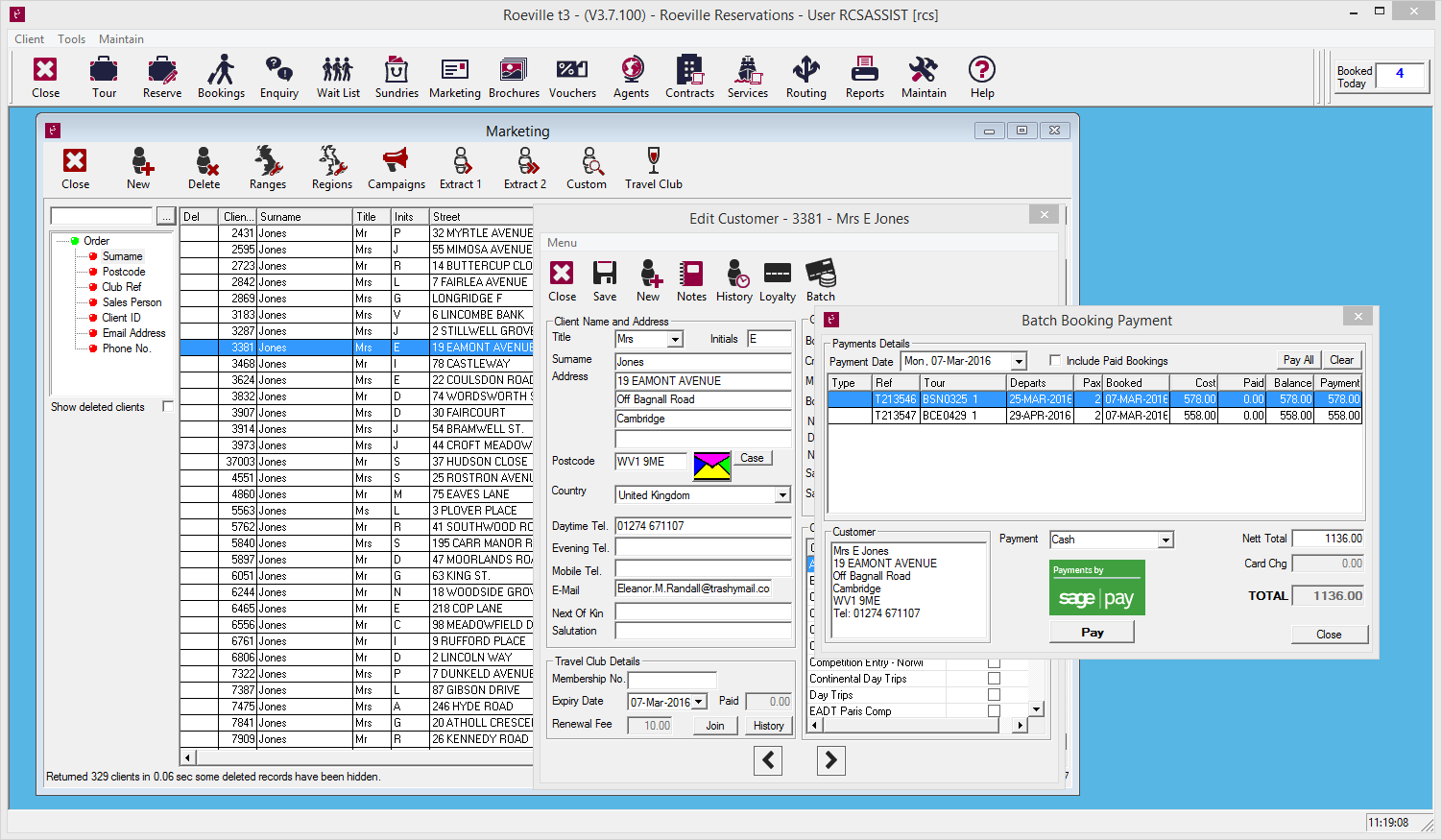 We also offer a scheduling tool to automatically run background database tasks including data exports and automatic management reports and can link with SMS texting and email marketing applications.
---
Complete Tour Management Is Here
Make the move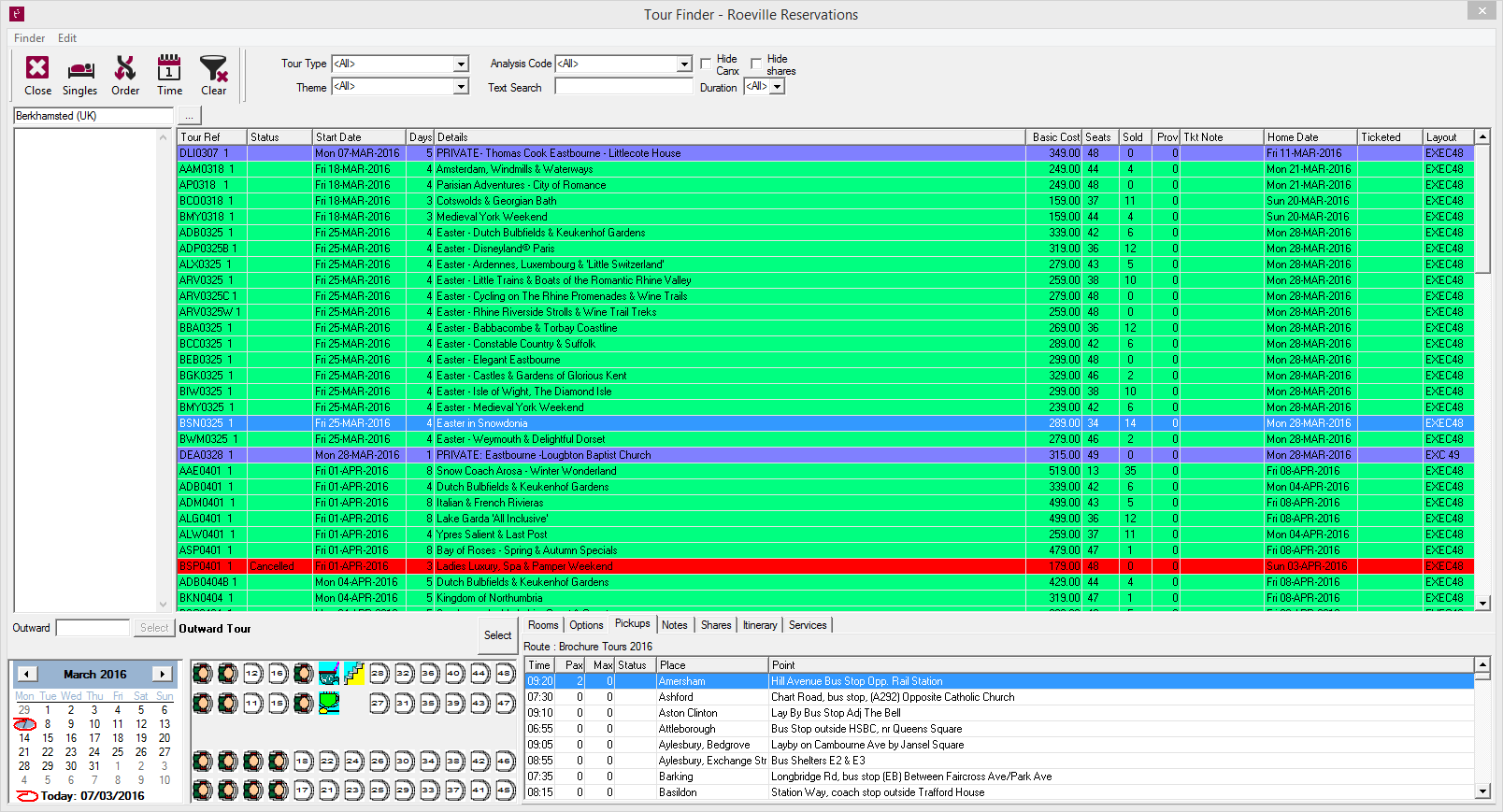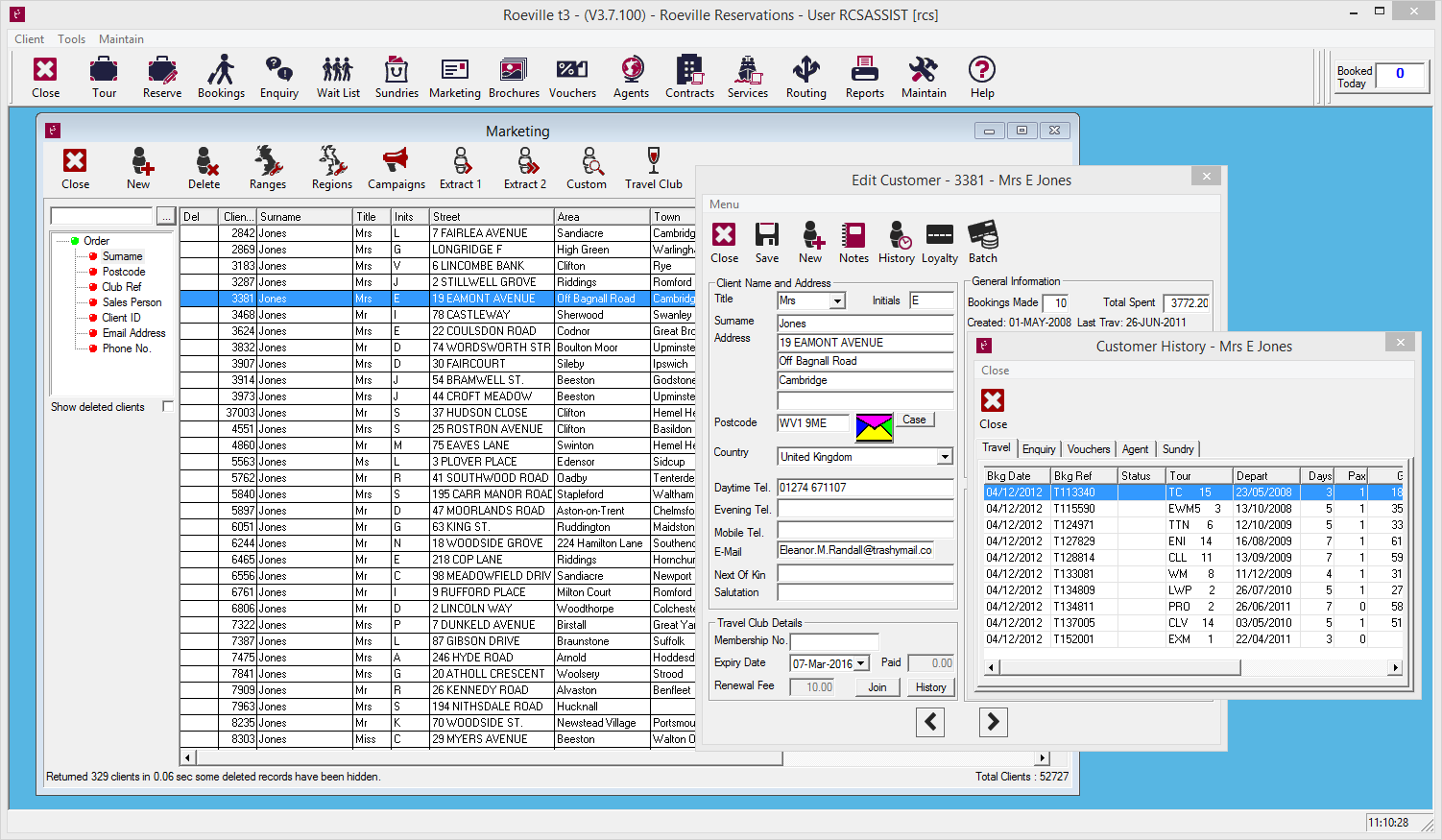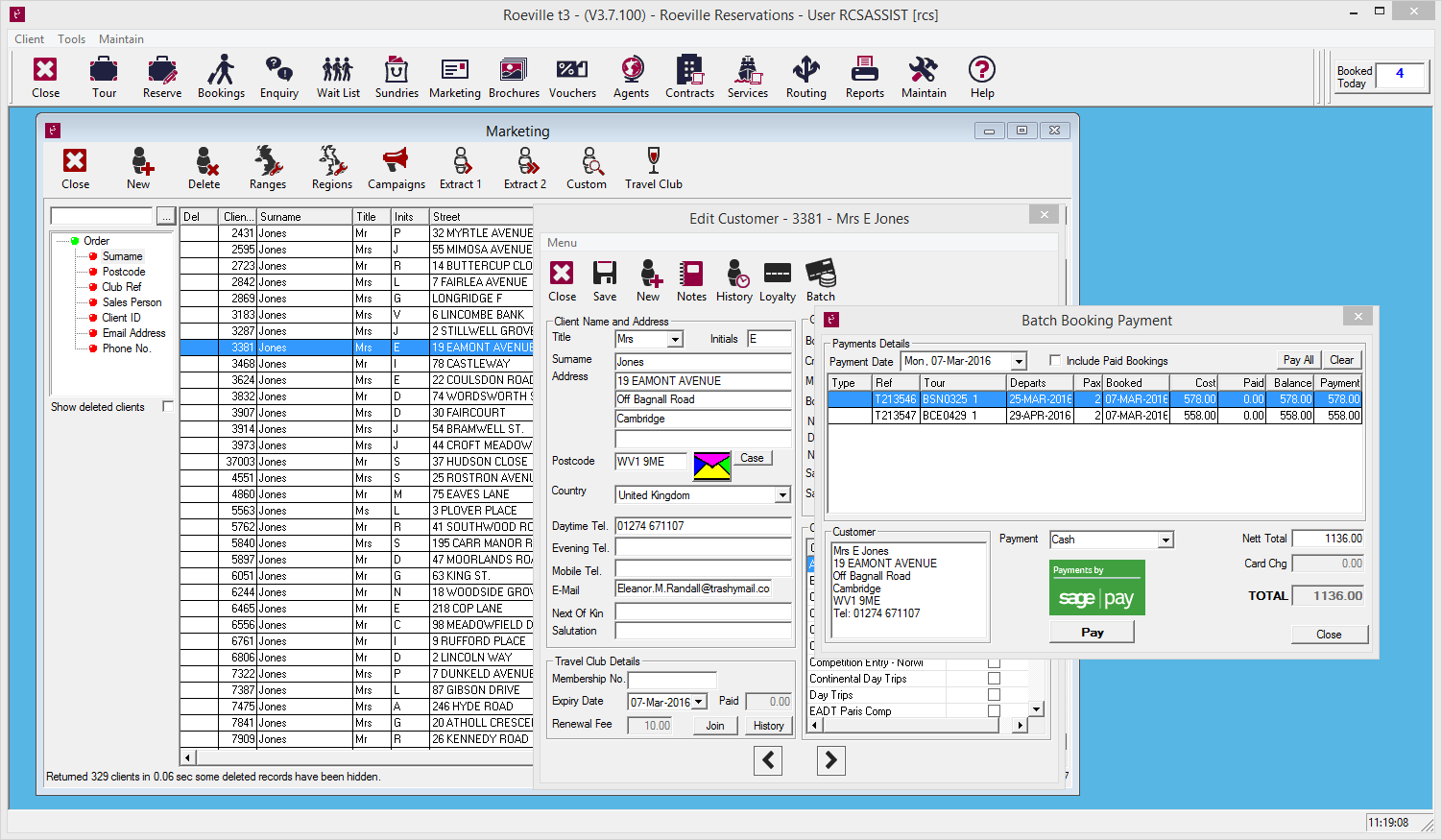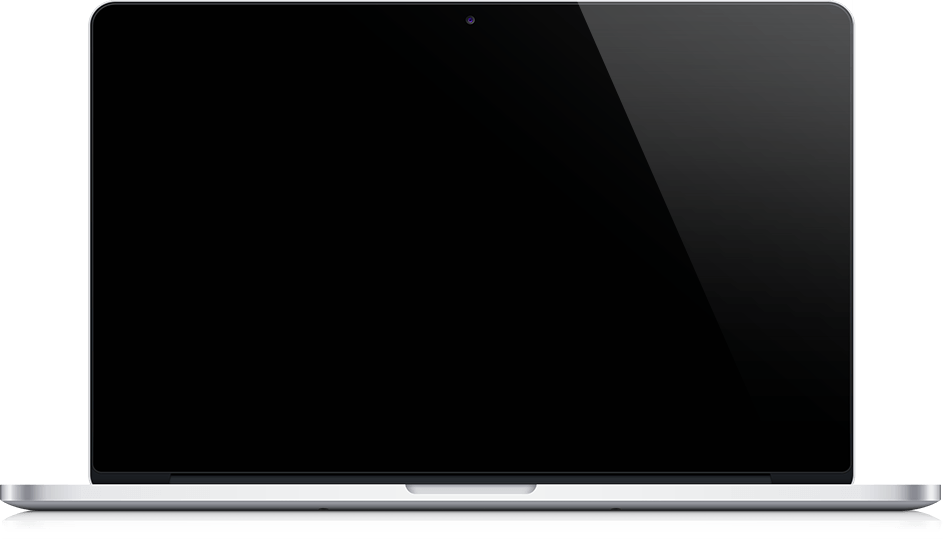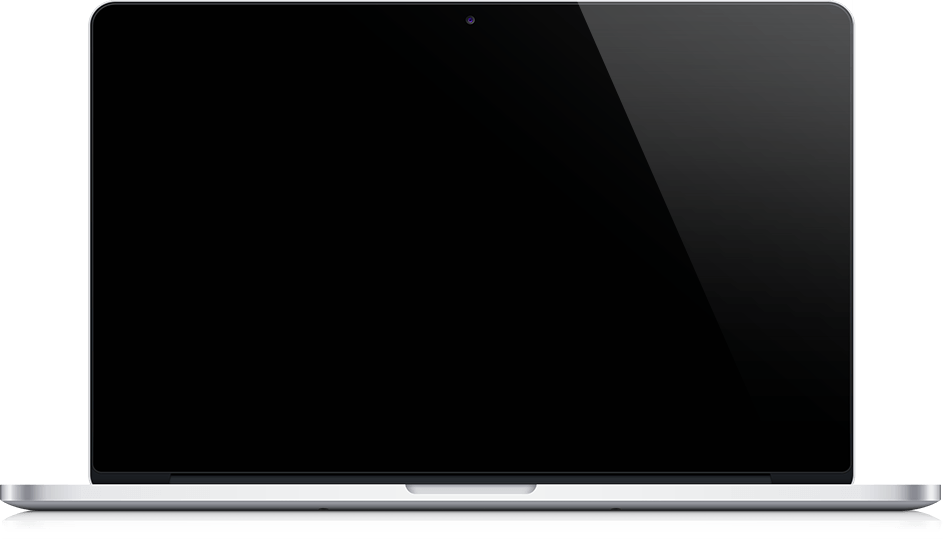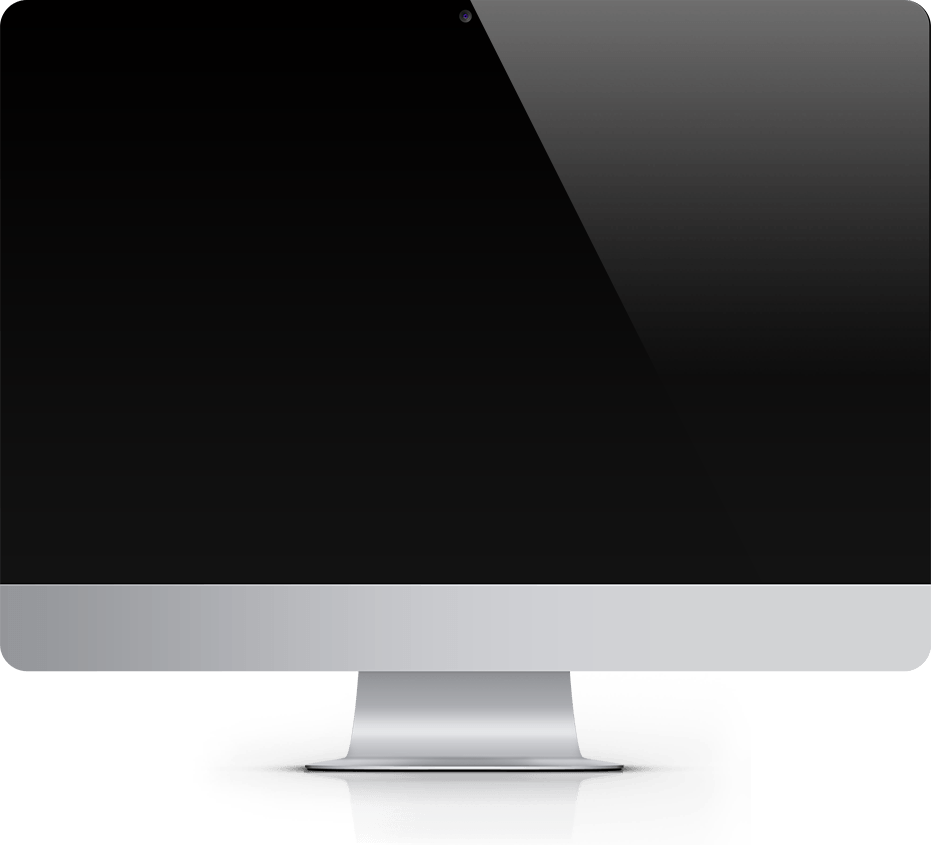 ---
Tours and excursions reservations
Extremely fast and very easy to use
Direct and travel agent bookings
Confirmation, ticket and travel documentss
Email direct and agent booked confirmations
ATOL certificates for bonded air holidays
Interchange based routing system
Home collect with door to door pickups
Graphical route planning (at extra cost)
Rooming lists - interim and final
Pre-build hotel room allocations
User definable seat-plans
Travel insurance bordereaux
Tour profit/loss and VAT reports
Accepts a single payment across multiple bookings
Advance payments and seat availability
Travel club with loyalty points
Marketing system with custom data extracts
Live booking monitor with year on year comparison
Sales and advertising statistics
Built in HTML editor for custom letters and Emails
Rapid addressing with AFD Postcode
Links to Sage Line 50 & Line 100
Choice of Payment Card Processing Gateways
---
Request A Demo
We've completed more than 100 projects for our amazing clients, if you're interested?
---
Request your demo today
Some Customers Who Use Our Software
Have we missed your logo from our product pages?
Please send us your logo, thank you.
Our Reservation Software
Roeville have been providing quality coach software reservation systems for coach operators for over 25 years and we pride ourselves on delivering value for money solutions with first rate support along with regular update and product enhancements.